The Detailed Guide on Underwater Video Shooting and Editing
Posted on August 2, 2015
Preparation and hard work can make you an exceptional underwater filmmaker. Here, we'll describe the key elements you should consider before starting your underwater adventures and during the shooting process, and we give you great video editing techniques.
Watch this amazing underwater video to get inspired!
Preparation
Here are some important factors to consider.
Depth: Make sure the housing is strong enough to withstand whatever depth-based pressure it will be subjected to. Make sure to check the manufacturer's specifications.

White balance: Light interacts with water differently than it does with air. That's why when you're at depth, aim your camera upwards and use the glassy surface of the water to adjust your white balance manually.
Visibility: Depending on where you shoot, visibility can be out of your control. One day it can be great, but the next you can't see your hands in front of you. It depends on the pollution, storm frequency, plankton blooms and other elements. So plan accordingly.

Buoyancy: Your camera and housing will be positively buoyant (it wants to float up) or negatively buoyant (your gear sinks). You can adjust the buoyancy to an extent by adding on weights to make it float less.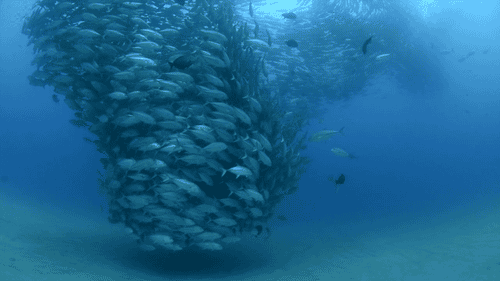 Shooting
1. Hold Still
Avoid shaky movements. Your camera is surrounded by water and you must be stable. Hold the housing as close to your body as possible to stabilize it.
2. Move Around a Little
Videos are more engaging if they contain a variety of shots. Practice panning the camera by twisting at the waist to aim the camera all the way to one side, hitting record, and then slowly unraveling yourself back to the other side.
3. Use a Tripod
It's almost impossible to hold the camera completely steady. You can use the underwater tripod. Using a tripod will kick your macro footage up to the next level. You can also leave your tripod set up on your subject and swim away – fish are much friendlier to cameras that don't have divers behind them.
4. Follow the Action
When shooting a moving subject, keep it in frame and with plenty of "headroom" – just like shooting stills, you want to make it look like your subject still has room to move. After you've captured some amount of motion, hold the camera still and let the subject swim out of frame to "end" the shot gracefully.
5. Get a Variety of Shots
Try shooting your subjects from different angles, with different lightning. Take your time and give yourself lots of options for later. Don't forget the shots that will help glue the story together: divers gearing up or entering and exiting the water, wide angle shots showing the overall appearance of the dive site, empty shots of blue water, etc.
6. Check your footage
To ensure your footage is good, you should look at it on a big screen.
Editing
If you are serious about becoming a professional, think about investing in an Apple Macbook Pro and install their editing suite, Final Cut Pro. Other programs are available on Windows PCs, but they don't come close to the Apple offerings.
You'll probably want to add music to your videos. Add music first and cut your video in time with the music. This makes a big difference to the final product and gives it a professional feel.
Keep your video simple; don't overdo it with too many special effects and transitions. Sometimes it's nice to experiment with the video speed.
Remember that the best way to get better at shooting underwater videos is just like anything else: practice! And if you need expert help with shooting video and editing, visit MyMovieLab. This professional video editing service offers quick and expert assistance. Just visit the site when you feel that you need someone's help. You'll be satisfied with the result!
More videos and useful tips on shooting soon!
Join Us!
Subscribe and get our newsletters!
Stay tuned!
Keep shooting!